I have 11x14 Poster Prints up for sale. They are very nice quality. Value of each code is $7.99. I am asking $4 for THREE codes ($24 value).
Plus, I have 4x8 Photo Card codes. Each code is good for 12 FREE 4x8 Photo cards (Each card is $0.69), These cards can be desinged as holiday cards, wedding cards, birthday cards, invitaitons, baby announcement, special events cards and much more!!
Easter (3/23) and St' Patrick's Day(3/17) are coming!!
Don't forget,
June is graduation and Father's Day month
!! !! Why not make some cute photo cards and send out to your freinds and family? I am asking for
$1 fo each code ( $8.3 Value). 3 codes(36 cards) for $2.5 and 5 codes(60 cards) for $4.00($41.4 Value) Just let me know how many codes you need.
As for 5x7 greeting cards (flipover), they are way too awesome. You get to make each individual cards personalized for different occasions. Select the formats you like, pick your pictures and write your own contents/greetings. Each code is good for 3 gretting cards (each card is of $2.49 value.) I am asking for $4 for FIVE codes(15 cards, $23 Value)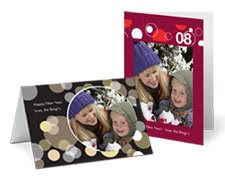 If you are interesed in 12-month Photo /Collage Calendars, I am asking $1 for each calendar ($19.99 Value). You can start your calendar on any month from January to December 2008m which means i f you start your month on December, you will be making calendars from December 2008 - November 2009, It's like making calendars for next year- Year 2009! Stock up for Christmas presents!!
Please pm me if interested and let me know how many codes you want for each items. I will also send you money-saving discount codes. I accept Paypal.
HURRY!! These codes expire on 03/06. Don't let the great deals slip away....
Have a nice weekend. ^-^