Quote:
Three adults and two juveniles were arrested Wednesday for terrorizing a Jewish camp in Pennsylvania. Authorities say Tyler Cole Spencer, 18, Mark Trail, 21, Cassandra Robertson, 18, and two juveniles intimidated Jewish campers and staff at Camp Bonim on three separate occasions on July 14 and 15.

Spencer drove a white Ford pickup truck "recklessly" through the camp, "narrowly missing several campers and staff" and damaging fields, yards, buildings and fences. The group also used paintball guns to shoot Jewish campers and staff, hitting one 18-year-old camper.

Authorities allege members of the group also shouted anti-Semitic slurs at campers and staff, such as "I'm gonna kill you, you f***ing Jews." "Go back to where the f*** you came from you god**** Jews. We don't want you here," Trail shouted. Several campers told police they "were scared for their lives" when the pickup truck sped through the camp,.

"The vicious, cruel and obscene nature of the language hurled at the campers is unspeakable," Wayne County, Pennsylvania, District Attorney Janine Edwards said. "Luckily none of the children suffered any serious physical injury; however, the emotional damage done is immeasurable. This is outrageous conduct and will not be tolerated."

Spencer, Trail and Robertson have been charged with several felonies and misdemeanors, including ethnic intimidation, terroristic threats, recklessly endangering another person and institutional vandalism. Spencer, of Linden, Tennessee, was charged previously with aggravated assault in a hit-and-run case. He hit a camp counselor with his pickup truck before fleeing on July 16.

Spencer's bail has been set at $200,000. Bail for Trail and Robertson, who are from Wayne County, has been set at $20,000 each. Juvenile petitions were also filed against the two accomplices, a 17-year-old and a 16-year-old.

http://www.cnn.com/2012/07/26/justic...ror/index.html
From left: Tyler Cole Spencer, Mark Trail and Cassandra Robertson are accused of terrorizing a Jewish camp in Pennsylvania.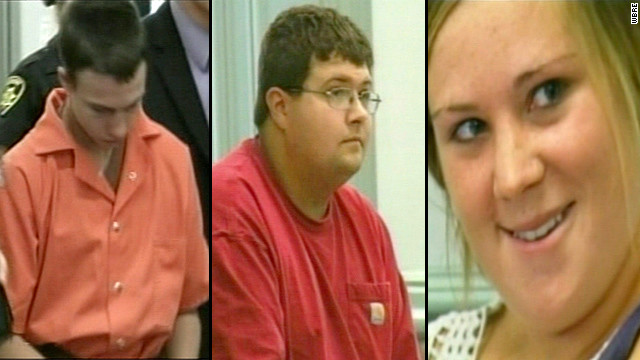 http://www.cnn.com/2012/07/26/justic...ror/index.html